SPRINKLER IRRIGATION
---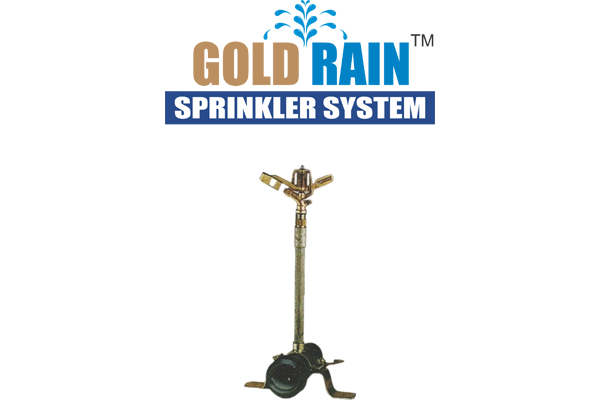 Gold Rain Sprinkler System
Best quality HDPE pipe welded by fusion with G-FITTM coupler.
G-FITTM means '0' pressure '0' leakage.
All fittings T, L, PCN, 4 way, End available.
Strong, durable, easy to connect and dismantle and shift.
Specification OD : 63, 75, 90 & 110mm. High grade metal special designed sprinkler. Nozzles - 3/4" speciality uniform spary and durable.
Pipe pressure rating (kg/cm2) : 2.5, 3.2, 4.0, 6.0
Flow Rate (@ 2kg/cm2) : 32 LPM
Applications : All Oil seed crops, Tuber Crops.
View details
Golden Raingun Sprinkler
To irrigate tall crops.
To irrigate big field.
Uniform spray.
Good quality tripod stand -1 1/4 mtr. to 2 mtr.
Pressure equipment 2.5 kg/cm2.
Eassy to shift and layout.
Application : Sugarcane ,Maize ,Gream ,Tea Estate ,Coffee ,Estate Dust Suppression ,Sport Field ,Golf Course Etc.
Note : For piping system use our HDPE sprinkler pipes or FLOWKING LAY FLAT pipe with suitable fittings
View details
MINI SPRINKLER AND MICRO SPRINKLER
---
Mini Sprinklers
Low to moderate flow rate and fine droplet prevents water runoff.
Very high application uniformly
watering radius @ 2kg/cm 2 up to 8~12 mtr
Recomanded Spacing 8x8mtr. 10x10mtr.
Flow Rate (@ 2kg/cm2) : 40~330 LPH
Applications : Vegitable, Tuber Crops, Oil seed crops Etc.
View details